What is a pussy pump?
Although the look these sexual tools are intimidating and can evoke different types of reactions ("I could never use this!" / "This looks disgusting" / "I'm embarrassed to look at this" / "I'm intrigued tell me more") we would like you to open up and first explore and understand, before having judgement ready. As the popular saying goes "Don't throw away the baby with the bath water!" and there might be some useful baby information here. 
Pussy pumps are sexual pleasure enhancers. A pussy pump is designed to increase your sensitivity around your clitoral area, making sex and masturbation and with yourself or with your partner even more fun. 
They're not a vibrator or dildo, but like their sister products, they can be used on the vagina, the clitoris and the entire vulva as well. 
What does a pussy pump look like? 
Although a quick Google Search will show various search results. The below illustration is probably the best for educational purposes. We invite you to explore all sizes and ranges of pussy pumps on Google search (just make sure you're browsing the web in incognito mode, or not if you don't care).
So what is a pussy pump exactly?
A pussy pump consists of three parts
A plastic chamber, often with a silicone rim - this is used to place over your genitals 
A hose 
A handheld pump
The chambers (1) come in various sizes: the small ones will cover the external part of your clitoris. The larger ones can cover more areas - including labia, vagina and your entire vulva.
How does a pussy pump work? 
You place the chamber of your genitals and then "pump" out air so you create a vacuum. The suction will become stronger enhancing the blood flow to your genitals - and consequently - will make your entire genital area more sensitive (in a good way!).
When do I use a pussy pump?
You can use it for foreplay or the start of your masturbation sesh in order to make the clitoris, labia, vagina and vulva more sensitive and therefore gain more pleasure from sex with your partner, or with yourself. 
Once you have "kickstarted" your sexy routine, you can take the pussy pump off and continue with x1000 more sensitivities and a genital area that is ready to play. 
How do I use a pussy pump?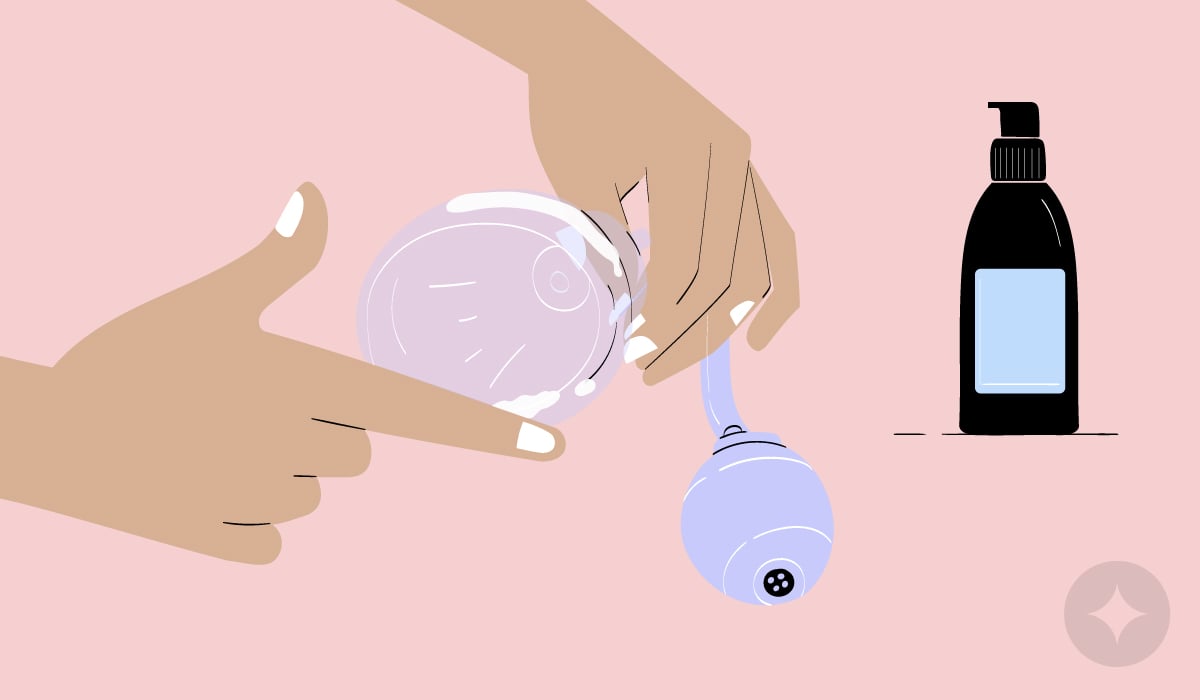 First: Lube up the rim of the chamber.  Then, use the hand pump to start tightening suction. Don't pump to furiously - make sure you feel relaxed and comfortable! 
Pump one squeeze at a time and enjoy the exhilaration of increased blood flow.
The seal gets tighter not when you squeeze the bulb, but when you release it.  To release pressure from a pussy pump, press the release valve right above the bulb.
Why does a pussy pump make sex/masturbation more intense?
With "pumping" air out of the pussy pump zone, you will experience an increased blood flow that results in your vagina swelling up and releasing its natural lubrications.
The swelling makes the vulva organs feel more sensitive and all sensations will be enhanced. 
For most girls, sex and masturbation are already known to be amazing self-care activities after a day or hard work, no work or just "because you need it". A session with a pussy pump will make this only more intense. 
What are pussy pump brands you would recommend?
While the image above might make you feel you're not ready for the "pussy pump" adventure. The pussy pumps anno 2021 have gotten an automated upgrade and also come in the form of a suction toy. Some famous brands are 
If you'd like to go for the OG experience, the best option we came across the internet is this Doc Johnson Pussy Pump (if you'd like more reviews, this page gives 43 reviews on the Doc Johnson Pussy Pump, although we have to say they're mainly male and US-driven).
Are pussy pumps safe?
They are safe when you go for a reputable brand (like the ones above) and when you follow the instructions: 
Make sure you lube up. Go for water-safe, paraben- and glycerin-safe lubes. 
Don't push yourself too far. Removing the chamber shouldn't be painful.
Clean, dry and store you pump safe and well after every usage
The Oh Collective's Vibrators
While we do not offer pussy pumps or clitoral suction vibrators yet, we do welcome any feedback or suggestions. In the mean time, give Kit and Pixie a look - great to start your sexual journey with, whether that's by yourself or with your partner.